Hawk Valley German Shepherds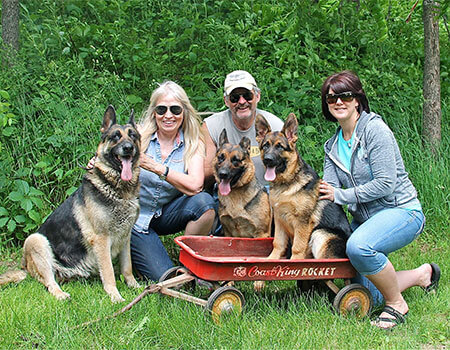 Three Generations of Hawk Valley German Shepherds
We call ourselves "Hawk Valley German Shepherds" but we are not your usual kennel. Rick and I both wanted to own German Shepherd dogs when we were kids growing up. I had a collie and Rick had a beagle. A few weeks after we were married we had a purebred German Shepherd female given to us. Her name was Tamarak. That was back in 1974. We have had German Shepherds ever since. We usually have two and sometimes three of them. We have never owned a male.
Our wonderful companions are members of our family and live with us in our home, especially during Wisconsin's long cold winters. Each of our now grown children had shepherds that guarded over them, and were their playmates as they grew up and wondered around on our very rural Black Angus farm.
Puppies are born in a spare bedroom off the kitchen. I use a large round plastic kid's wading pool for the female to whelp in. We are big believers in socializing our pups. Having been a four and five year old kindergarten teacher we used to bring the puppies up to play with and interact with the students. I still have contact with the school and take litters up to the kindergarten rooms to play each week. We also set up a play day at the public library. Not sure who likes it more, the kids or the pups.
We are not a puppy mill. We do not show our dogs. I like to produce one high quality litter per year. We are not in it for the money, but for the betterment of the breed. Rick and I just love well bred, well behaved German Shepherds. Our dog veterinarian is a former German Shepherd breeder herself. Our puppies get first class vaccinations and care from day one.
In 2004 we had the great fortune of meeting Steve and his wife, who came to our farm to purchase a registered Black Angus bull. Steve has been breeding, training, showing and selling super high end German Shepherds, nationally and internationally since the late 1950's. The first time Rick and I visited him he had 23 adult shepherds in his kennel. We bought our first female from Steve the next year, after waiting for the mating to occur and Heidi to be born.
Steve has allowed us to use his very well known stud dogs to not only have puppies to raise and sell but to keep for ourselves. Our current two breeding females are mother and daughter. We lost grandma three years ago. Through us, Steve hopes to keep his long established and respected bloodlines going.
Our dogs are super level headed and very good with young children, they posses what Steve refers to as common sense. They can think for themselves and react accordingly.
Contact me, Susan, for more information and puppy availability.